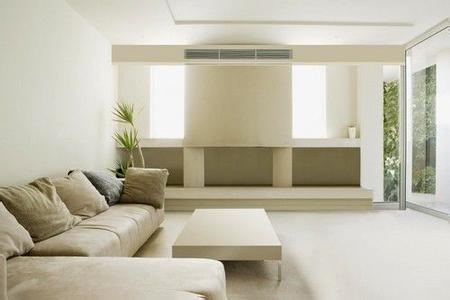 Wu Wenxin, president of Midea Home Air Conditioning Division, fled from another conference. Although time was limited, he was eager to lead a group of reporters present to visit the new air-conditioning showroom in the United States.
He stroked an air conditioner sample and seemed to enter an intoxicated state: "You see this design, this color, this work, how good it is." One person quietly interjected next to him that he loves air conditioning is like his children.
Several journalists present recalled that the same scene also occurred on August 5 of this year, at the press conference of the new cold air conditioning in the United States. At that time, Wu Wenxin also stroking a beautiful air-conditioner. You see, this is a good product.
An employee of the US Home Air Conditioning Division told the reporter that Wu Wenxin basically did not mention sales and profits in the six months. His focus is only on the product itself.
Since 2011, Midea has begun to implement its boutique strategy internally. "The first priority of a quality strategy is to do a good job of the product, and all the work is transferred to the product. The general manager personally grasps it. Only if the product is done well can the company's sustainable development capability be improved." Wu Wenxin stressed.
Zuo Yanxi, general manager of Zhongkang Brand Center, said that a profound change has taken place in Midea Air Conditioning, and that the pattern of biased marketing drive is being reversed. The company will focus more on manufacturing good products.
President who only cares about the product Now, Wu Wenxin personally presides over the "Boutique Strategy" monthly review meeting. The person in charge of each department at the meeting wanted to talk about what they had done in the past month, what they would do in the next month, and a dozen or so judges would score and assess according to the ranking of the scores.
Wu Wenxin said that in the past two years, the Home Air Conditioning Division has had only one job, namely, "products," and has done a good job of conscientiously implementing the products without a second job. If there is a second item, it is the reliability of the product. It is not only good today, but good tomorrow, but it must be good after five years and ten years.
As the head of a business unit, Wu Wenxin rarely pays attention to sales and profitability. He himself also admitted that there was basically no mention of sales and profits in the six months.
The United States summed up its boutique strategy as "two musts": first, it must meet consumer demand and it is best to exceed consumer expectations. Second, no matter what price level, every product must be a boutique product. Can not be satisfied with relying on a single "price" or "selling point" factor to attract consumers to buy, but all the details must be demanded by the fine, the appearance should be high-grade fashion, the overall energy efficiency should be high, the basic cold and heat performance should be outstanding, function is subject to Consumers love long-term reliability and so on.
According to the reporter's understanding, only in 2012, in order to improve the quality, Midea Air-Conditioning invested a total of nearly 1 billion yuan for the improvement of major quality projects.
One example is that the original internal and external cables of Midea Air Conditioning Co., Ltd. are 4.1 meters, and 5% to 10% of special users need to lengthen on this basis, but this self-enhancement method is prone to communication failures. Knowing this information, the company immediately lengthened the connection to 5 meters.
Only this one, the US air-conditioning in 2012 increased the cost of 5 million. "But we think it's worth it," said a beautiful insider.
There are many such details, including internal cooling, heating effect improvement, external structural strength improvement, appearance rectification, reliability in the electronic control of physical rectification, lack of physical rectification and other deficiencies.
"To do a good job is not only the pursuit of fashion that the appearance has to meet the rising standards of living. What's more important is that the internal quality must meet consumer demands and every detail must be improved," said Wu Wenxin.
Wu Wenxin, the pursuit of quality under the pursuit of new thinking, said that from the market point of view, the economic environment is more severe and competition in the industry is fiercer. For the industry as a whole, the primary and secondary markets have become saturated, with secondary purchases as the mainstay, and the volume of the tertiary and tertiary markets has increased. However, the absolute value of the new volume is not large.
According to the "White Paper on Refrigeration Year 2013 China Air Conditioning Market" released in August this year, the overall sales of air conditioners in the 2013 cold year (August 2012-July 2013) was approximately 38.2 million units. Among them, the sales volume of air-conditioners in major cities in China increased by only 2.92% year-on-year, and the sales increased by only 10.26% year-on-year. The year-on-year increase was slightly warmer than last year, but the degree of prosperity was still not good.
Wu Wenxin recalled that in the past, he focused on the development of the scale, and the lack of lean management of the enterprise.
"In this case, air-conditioning must focus on connotative growth, including product power, technological power, and quality power. This is what we call the 'boutique strategy'." He said that Midea Air Conditioning can no longer rely on gaining market growth to support operations and profitability. In other words, the mode of large-scale manufacturing and distribution needs to be transformed.
Zuo Yanji, General Manager of Zhongye Kang Brand Center, believes that before this, the United States gave the outside world a marketing-driven impression. However, these current changes indicate that the company is shifting its focus from marketing to the product itself.
However, this transition is not an easy task. The hardest thing is the change of thinking.
"Thinking determines action and action determines fate. The transition of middle and high-level thinking is the most difficult to start. From large-scale extensive inertia to detailed management, many requirements are not the same." Wu Wenxin said that in early 2012, the monthly regular meeting of boutique strategy was just launched. At the time, the content of each department's report was exactly the same as the daily work, and it was later changed to separate the promotion of quality strategic work from the regular work area.
Wu Wenxin said that when one person changes his mind, everything is different. After starting to promote the fine projects, what was previously considered reasonable was already unreasonable. We thoroughly review each detail that needs improvement and prioritize them.
It is understood that the introduction of Midea's "boutique strategy" for air-conditioning has a lot to do with Wu Wenxin's own R&D and manufacturing background. Wu Wenxin graduated from the mechanical manufacturing profession and has accumulated over 30 years in air conditioning technology and manufacturing. He loves the product itself.
Some media speculated that Midea's ability to let a person of technical origin serve as the head of the air-conditioning business unit confirms to some extent the fact that the company has changed from marketing to product.
The results also prove that it is right to focus on the product itself and the idea of ​​implementing a quality strategy.
According to the 2013 semi-annual report released by Midea Electric, the overall operating income for the first half of the year was 46.3 billion yuan, an increase of 19% year-on-year; net profit attributable to parent company was 2.6 billion yuan, up 25% year-on-year. Air-conditioning business increased by 14% year-on-year, and gross profit margin increased by 1.3% year-on-year.
At the same time, according to the data of Yikang Company, an authoritative market research organization, under the "1 night of 1 kWh" ECO energy-saving product, Midea Air Conditioning has become the No. 1 leader in China's energy-efficient inverter air conditioner market with a market share of 27.7%. Brand.
Four Steps to Support Quality Manufacturing Wu Wenxin said that "premium" is an attitude first, followed by a system. He divided the system into four aspects: planning first, technological innovation, quality control, and manufacturing. With these four aspects of support, quality strategy can be implemented.
According to Wu Wenxin's introduction, to make the product well, first start with market planning. Every product that is planned by Midea's air-conditioning product planning department must have an insight into the needs of consumers. For example, refrigeration, heating, noise, energy saving, etc., which indicators are most concerned about by consumers and are ranked first, all have research.
"Last time, a consumer survey was conducted in March this year using the Nielsen Company." He said that product planning has become a strong guarantee for the technical system, R & D generation, production generation, reserve generation, which is the United States of America's three levels of air conditioning R & D system. The product planning department not only plans to prepare products for the next year, but also plans products for the next three to five years. At present, products for the 2017 and 2018 cold years are already under planning.
In addition to planning ahead, technological innovation is a more important support for quality strategy.
In the chip factory in the United States, the reporter saw a worker in protective clothing and was busy in a dust-free workshop. Here, 25,000 variable-frequency chip modules are produced every month and then used in Midea's inverter air conditioners.
It is not an easy task to mass-produce the inverter chip module. Previously, this technology has been monopolized by foreign companies, and China's air-conditioning companies can only rely on imports. Mastering the variable-frequency chip module technology means that Midea Air-conditioner has the full industrial chain advantage of including key components such as compression and motors.
According to the introduction of Dr. Zhang Zhi, the president of the Central Research Institute of Air Conditioning in the United States, in 2013, Midea Air-Condition had one refrigeration expert from the United Nations Environmental Planning Agency, 19 foreign experts, 26 doctoral degrees in R&D, and 16 strategic experts.
At the same time, Midea's post-doctoral scientific research workstations were established as early as 1999. They have established cooperative relations with Xi'an Jiaotong University, Huazhong Technology, Shanghai Jiaotong University, South China University of Technology, Chengdu University of Electronic Science and Technology, Chang'an University and other domestic universities. A total of nearly 30 postdoctoral personnel have entered Station engaged in research projects.
Strong talent base and broad socialized intellectual resources allow Midea's air-conditioned innovation and technology achievement system to be very solid. From 2010 until now, home air conditioners have applied for 1,895 patents, of which 497 were invention patents, accounting for 26%; utility models were 898; 502 designs. Home air conditioners, on average, have at least two innovative technologies transformed into patented results each day.
In the field of quality control and control, Midea Air-Conditioning has invested a great deal of resources to improve various quality details centered on "consumer experience."
The insider of the United States described the place where the consumers were not satisfied as "pain points." Every pain point became the direction that the American air-conditioners tried to improve.
Finally, it is a manufacturing realization. Wu Wenxin said that Midea Air-Conditioning has five integrated manufacturing plants for domestic sales of air conditioners, and the standards for raw materials and process control are very strict. For example, in terms of incoming materials, Midea invested 50 million yuan in five factories, and made five closed management screening plants. All 2000 workers selected all key components for air conditioning and strictly controlled the quality of incoming materials.
"Quality must be done, there is no short cut to go and one point is harvested." Wu Wenxin said.
There are plenty of benefits for using usb type c cable For starters, the port is reversible! But that is only the tip of the cable. And like ice bergs, there is much more than meets the eye in type c cables. They allow for faster transfers, charging, 4K monitor output and more.
Needless to say we will have to start populating our living spaces with USB 3.1 Type C and accessories.It measures in at 1.8 meters of length and can handle USB 2.0 charging, as well as up to 60W of fast charging power. Not bad at all.
USB Type C Cable, USB 3.1 Type C, Type C Cable, USB Type C
Hebei Baisiwei Import&Export Trade Co., LTD. , https://www.baisiweicable.com