[Text|High-tech LED Zhongshan Station reporter Zhou Jianhua]
Accumulated in 16 years, Guangmingyuan Lighting chose to take off again in the electric light source industry base in Fujian Province. On September 19th, Guangmingyuan (Fujian) Solid State Lighting Co., Ltd. held its opening ceremony in Changzhou Guangmingyuan New Industrial Park, Zhangzhou, Fujian.
Hong Yannan, president of Guangdong Fujian Chamber of Commerce and chairman of the company, delivered a warm speech. The company strives to reach an annual output value of 500 million yuan within three years to contribute to local taxation. At the same time, at the ceremony, donate 10 to Changtai No. 2 Experimental Primary School. Ten thousand yuan, donated 20,000 yuan to the students from Changtai.
In the industry for 23 years, Chairman Hong Yannan led his company to the forefront of the lighting industry with the power of innovation. From a small workshop of seven or eight employees to a company that grew to nearly 2,000 people, Hong Yannan spent 16 years. In 2013, Heshan Guangmingyuan Lighting Appliance Co., Ltd. had a revenue of 400 million yuan.
The reason why he chose Fujian to develop new production capacity and product line, Hong Yannan said: "The LED chip 'big brother' Sanan Optoelectronics takes the lead role, as well as a number of powerful enterprises such as Furi Electronics and Lidaxin, the LED industry cluster effect in Fujian Province Obviously, it will definitely promote the integration and coordination of the LED industry chain, and promote the steady growth of the LED industry in Fujian Province."
It is understood that compared with Guangdong, Zhejiang, Jiangsu and other light sources, lamps and lanterns production provinces and cities, regardless of the number of enterprises, or the annual output value, export value, Fujian advantage is not outstanding, but in the middle and high-end and large-scale production, Fujian is even more Winners, the average price of products is relatively higher than in other regions. In Fujian, it is unrealistic to want to make low-value-added lighting products because there is no relevant industrial chain. At present, LED products have become the main force driving the export of lamps. From the perspective of market distribution and structure, the number of countries/regions where lamps are exported has increased to 145, and the market development capability has been further strengthened. The United States and the European Union are still the main export markets for LED energy-saving lamps in Fujian.
"In the future, we will use the value of light to provide consumers with a new life experience in environmental protection, health and quality of life, and become a consultant for consumers' intelligent life, thereby enhancing the quality of human life and changing the world with light." Hong Yannan hopes to use light to solve more problems in people's lives.
Hong Jianshan, Director of Purchasing Center of Guangmingyuan (Lighting) Group, told reporters: Guangmingyuan (Fujian) Solid State Lighting Co., Ltd. is a holding subsidiary of their group company invested in Fujian, mainly producing LED explosion-proof lamps, LED mining lamps and other environmental protection. The product has a factory with a production area of ​​30,000 square meters and a registered capital of 40 million yuan.
Ms. Liu Shengping, Chairman of the China Lighting Association, gave a speech at the meeting. Director Chen of the Institute of Optics, Fudan University sent a video message. The deputy head of Huangtaisheng of Changtai County, vice chairman of the CPPCC, and the development zone attended the celebration. People's Daily, News media such as Southeast TV Station, Fujian TV Station and Guangdong TV Station visited the company for coverage.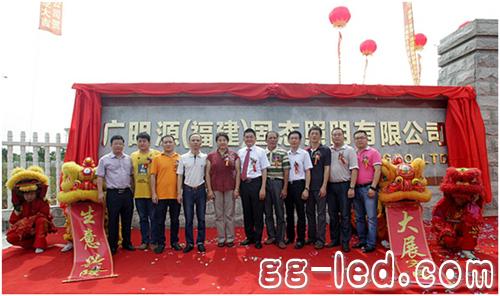 Guangmingyuan Fujian New Industrial Park opened

Circuit Breaker is an electrical device used in an electrical panel that monitors and controls the amount of amperes (amps) being sent through the electrical wiring. Circuit breakers come in a variety of sizes. For instance, 10, 15 and 20 amp breakers are used for most power and lighting needs in the typical home. Some appliances and specialty items (washers, dryers, freezers, whirlpools, etc.) will require a larger circuit breaker to handle the electrical load required to run that appliance.
Circuit Breaker is composed of 4 parts, Ie. , the insulating case, operating mechanism, contact system and tripping device, featuring quick make and break and free trip. The types of common circuit breaker are:
Miniature Circuit Breaker
/MCB,
Residual Current Circuit Breaker
/RCCB,Leakage Circuit Breaker,RCBO, Moulded Case Circuit Breaker /MCCB. As a largest Circuit Breaker manufacturers in china, Korlen electrical produces Circuit Breaker more than 3 million monthly.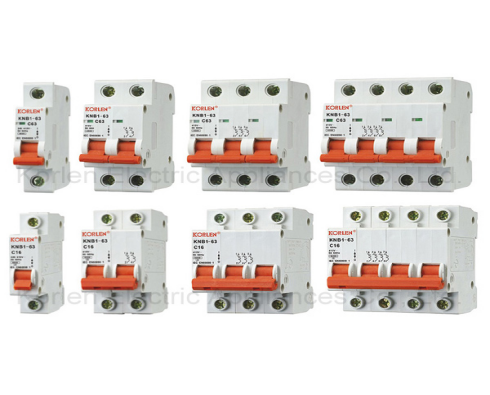 | | |
| --- | --- |
| rame class | 63A |
| Rated working voltage | 240V/415V |
| Rated frequency | 50/60Hz |
| Rated working current | 1, 3, 6, 10, 16, 20, 25, 32, 40, 50, 63A |
| Making and breaking capacity | 6000A(6~40A), 4500A(50, 63A) |
| Release type | B, C, D |
| Poles | 1, 2, 3, 4P |
| Mechanical life | 20000 |
| Electric life | 4000 |
If you have any questions,please contact with us directly,welcome to visit our factory.For inquly.please send mail directly to us.
Circuit Breaker
Low Voltage Breaker,Air Circuit Breakers,Earth Leakage Circuit Breaker,Vacuum Circuit Breaker,Circuit Breaker,Motor Breaker
Wenzhou Korlen Electric Appliances Co., Ltd. , https://www.korlenelectric.com